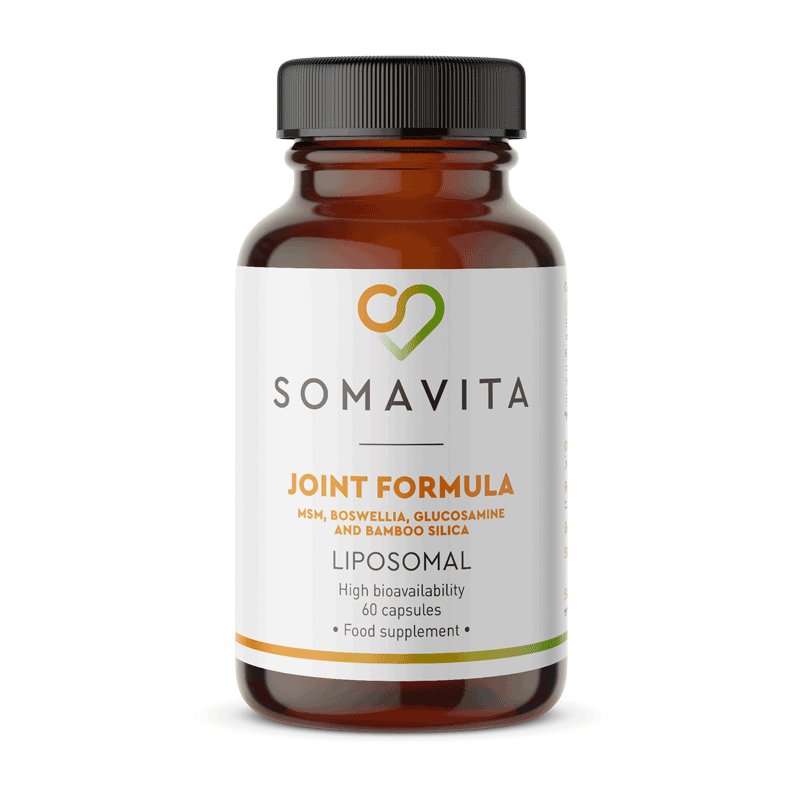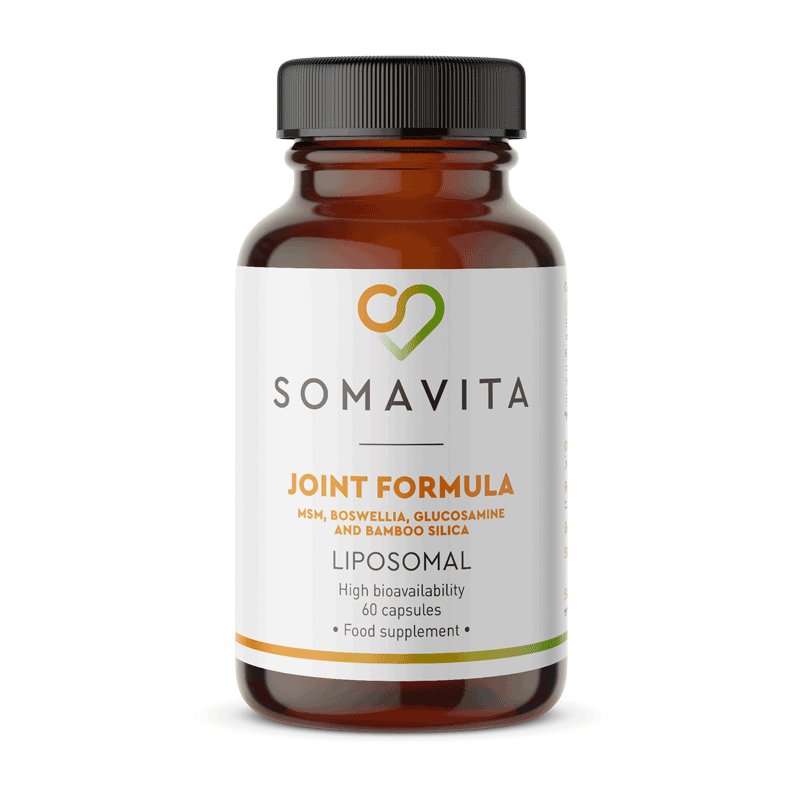 Liposomal Joint Formula (60 caps)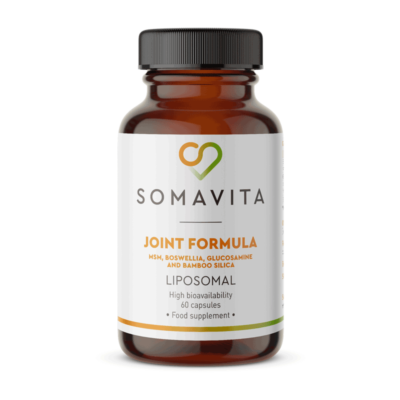 Liposomal Joint Formula (60 caps)
€ 32,95
€ 32,95
€ 0,55 / Capsule
With Boswellia for the maintenance of flexible joints and cartilage and Glucosamine, a natural part of our cartilage and connective tissue. The combination with MSM and Bamboo Silica provides a synergistic effect.
Liposomes manufactured with an innovative and natural production method without the use of chemicals, heat and high pressure

Highly stable liposomes that ensure the purity and protection of MSM, glucosamine, bamboo silica and boswellia

Only pure ingredients without additives

MSM, glucosamine, bamboo silica and boswellia with an unprecedented high bioavailability and purity

Suitable for vegetarians and vegans

In glass packaging
Description
Additional information
Composition
Dosage
Description
This new liposomal formula supports the maintenance of flexible joints and healthy cartilage by providing them with sufficient nutrients. It contains MSM, glucosamine, bamboo silica and boswellia. These nutrients are known for their difficult absorption, but thanks to the liposomal form in which they are processed, an unparalleled bioavailability has been obtained.
The following nutrients have been added in liposomal form:
MSM (methylsulfonylmethane)
MSM is an organic sulfur compound. Sulfur is an essential nutrient that is important in many processes and functions in the body. It is a component of proteins and enzymes.
Glucosamine
Glucosamine is an important component of our cartilage and joints. In our diet, glucosamine is almost exclusively found in crustaceans and cartilage. Because these are eaten little nowadays, it is more than logical that many people build up a deficiency, especially at a later age. Our body could manufacture this joint building block itself, but it has been shown that this process is difficult, so there is a good chance that our body does not get enough glucosamine. It is therefore important to supplement the daily diet with glucosamine because this is an important component to keep the cartilage and joints flexible and firm.
Bamboo Silica
Bamboo Silica is very rich in the mineral silicon. Many minerals depend on silicon. For example, magnesium is poorly absorbed if silicon is missing. Silicon is important for connective tissue, cartilage, skin, hair and nails. Silicon works synergistically with MSM and glucosamine.
Boswellia
In Ayurveda, the traditional Indian medicine, the effect of this plant has been known for centuries and today the use of this remedy is becoming more and more popular. Boswellia ensures the maintenance of flexible joints, healthy cartilage and healthy connective tissue.
Due to the Health Claims Regulation and the KOAG/KAG, we are not allowed to mention the powerful effect of MSM, glucosamine, silicon, boswellia and the synergy of these nutrients here. By searching the internet with for example duckduckgo.com for one of the above nutrients combined with the search term "anti-inflammatory" one can find many scientific health articles that specifically address this.
Composition per 2 capsules
| | | |
| --- | --- | --- |
| | Quantity | %NRV* |
| Boswellia | 240 mg | ** |
| MSM | 240 mg | ** |
| Glucosamine | 160 mg | ** |
| Palmitic-Oleic Acid Phospholipids from non-GMO identity protected sunflower | 286 mg | ** |
| Bamboo Silica | 24 mg | ** |
*Nutrient Reference Value not established
Other ingredients Hydroxypropyl methylcellulose (vegetarian capsule).
No fillers, only pure ingredients. Free from GMO, gluten, soy, lactose, preservatives, artificial colours, flavours and fragrances.
Suitable for vegetarians and vegans.
Recommended daily intake 2 capsules per day with plenty of water during a meal.
Storage in a closed and dark place at room temperature.
Mandatory statement according to food law: The recommended daily dose should not be exceeded and is not a substitute for a balanced and varied diet. Keep out of reach for small children.