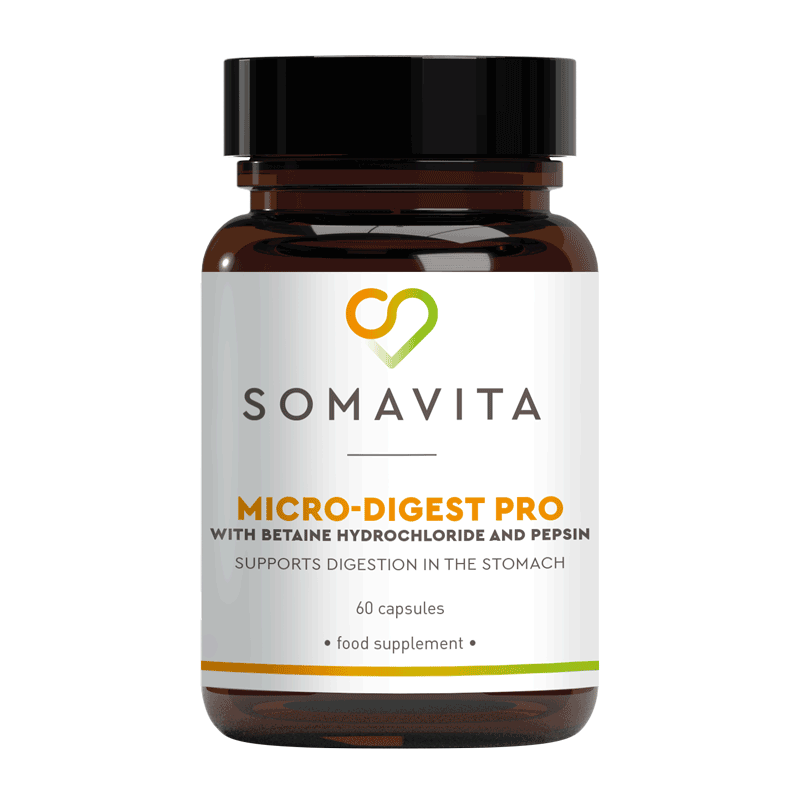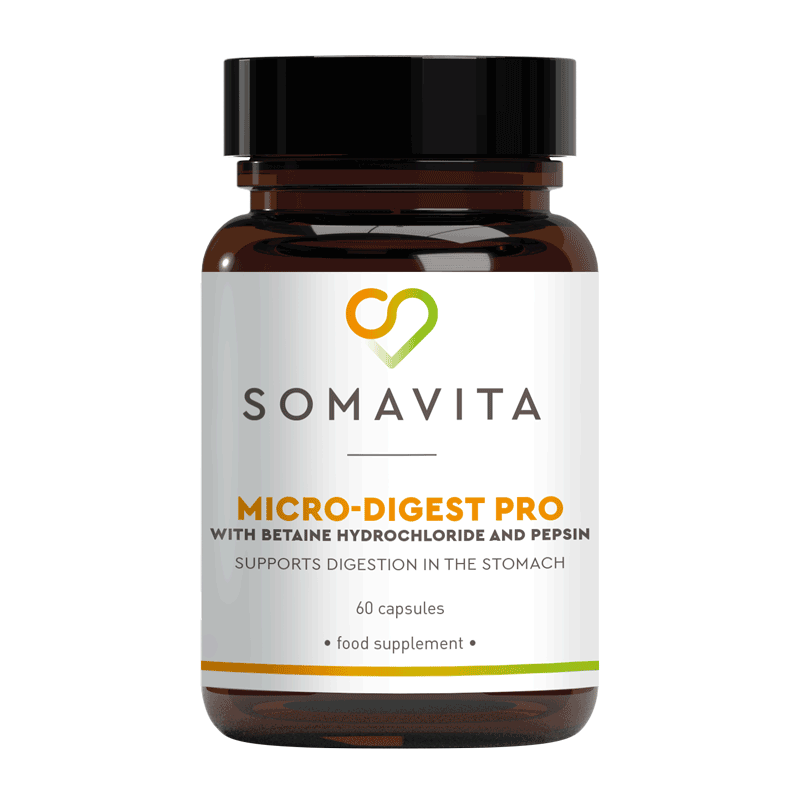 Micro Digest Pro (60 caps)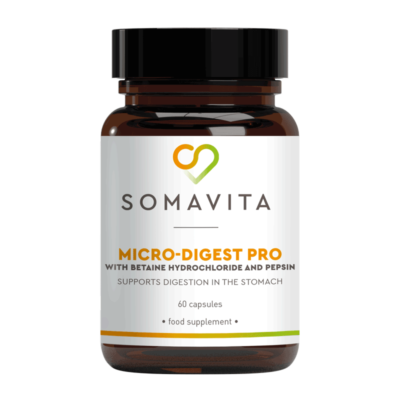 Micro Digest Pro (60 caps)
€ 24,55
€ 24,55
€ 0,41 / Capsule
Betaine Hydrochloride (HCL). This is gastric acid of plant origin.
Trypsin. This is an enzyme made in the pancreas.
Boswellia
Pepsin
Contains only pure ingredients with no additives
Free from GMO and nanotechnology
In glass packaging
Thanks to the changed composition, this SomaVita® Micro-Digest Pro has been further optimized. In addition to the betaine HCL and the pepsin, it now also contains chymotrypsin and boswellia. Chymotrypsin is not broken down by gastric acid. These are pure ingredients with no additives.
Description
Additional information
Composition
Dosage
Description
SomaVita® Micro-Digest Pro contains the following ingredients:
Betaine Hydrochloride (HCL)
This is gastric acid of plant origin.
Pepsin
This enzyme is made by the stomach and breaks down the protein molecule.
Trypsin
This is an enzyme made in the pancreas.
Boswellia
Due to the Health Claims Regulation and the KOAG / KAG, we cannot mention the powerful effects of Mikro Digest Pro here. For example, if you search the internet with duckduckgo.com for "betaine hydrochloride (HCL)" or "trypsin" or "boswellia" and "research" you can find many scientific health articles that deal specifically with this topic.
Composition per capsule:

| | |
| --- | --- |
| | Quantity |
| Betaine Hydrochloride | 400 mg |
| Pepsin | 50 mg |
| Trypsin (250USP/mg) | 50 mg |
| Boswellia | 50 mg |
Other ingredients Hydroxypropyl methylcellulose (vegetarian capsule).
No fillers, only pure ingredients. Free from GMO, wheat, yeast, soy, egg, gluten, alfalfa, shellfish, peanuts, dairy or corn allergens, and no salt, sugar, starch, wax, artificial colours flavours
or preservatives.
Recommended daily intake
1 capsule two times daily with water during or immediately after meals
Store in a cool dry place.
Mandatory statement according to food law: The recommended daily dose should not be exceeded and is not a substitute for a balanced and varied diet. Keep out of reach for small children.