Regeneration Formula (90 caps)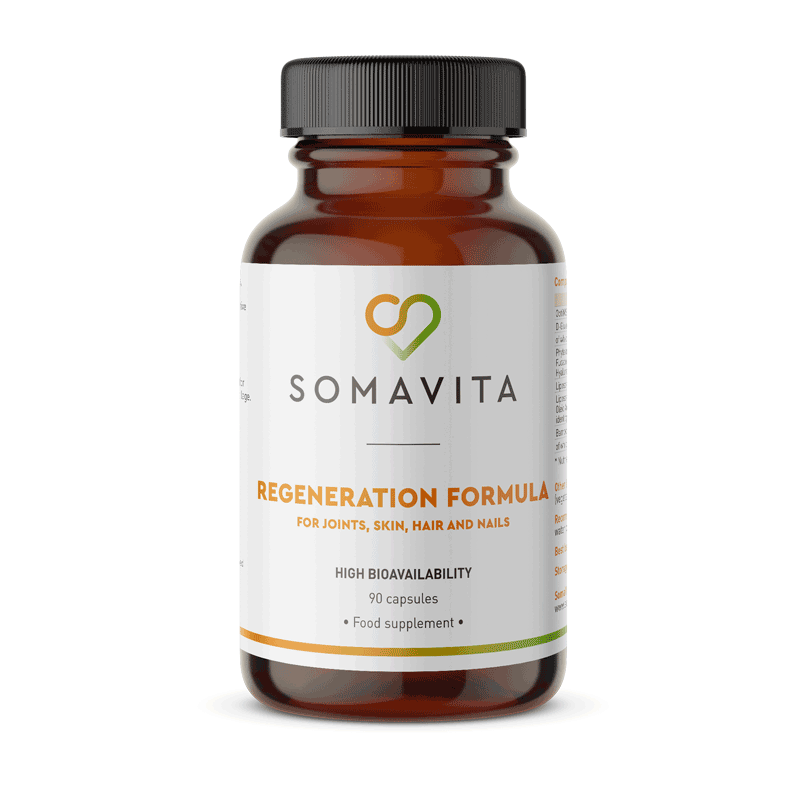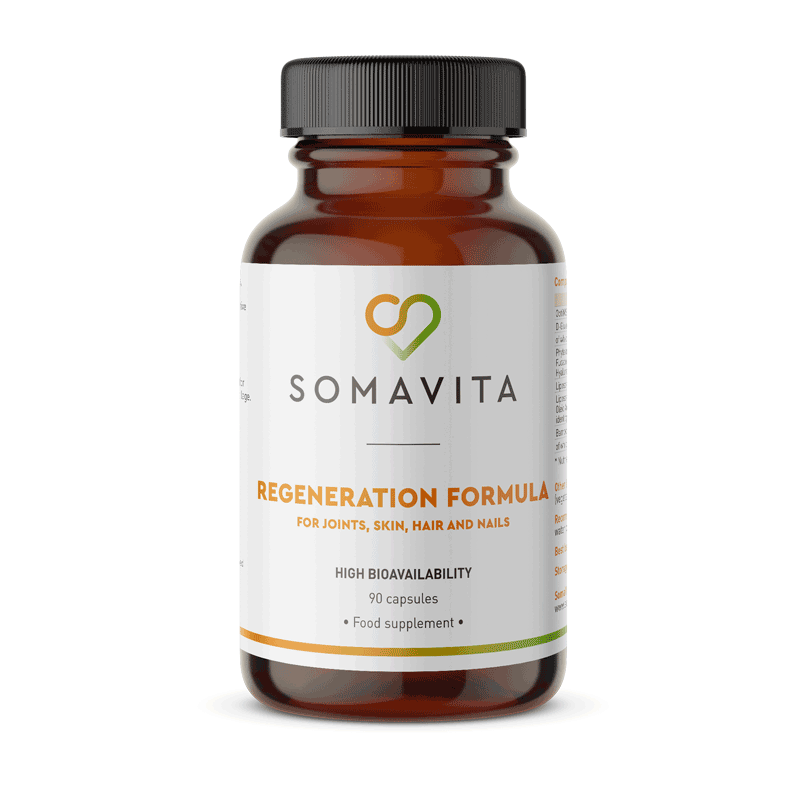 This product is no longer available. Alternatively, you can choose the Liposomal Joint Formula.
Regeneration Formula takes care of the joints, bones, hair, skin and nails with the necessary nutrients. It contains MSM, Phytodroitin (a plant-origin alternative for chondroitin), d-glucosamine sulfate, bamboo extract as a natural source of silicon and liposomal vitamin C. These nutrients work synergistically, they reinforce each other in their effect.
Vitamin C contributes to normal collagen formation for the normal function of blood vessels, bones and cartilage.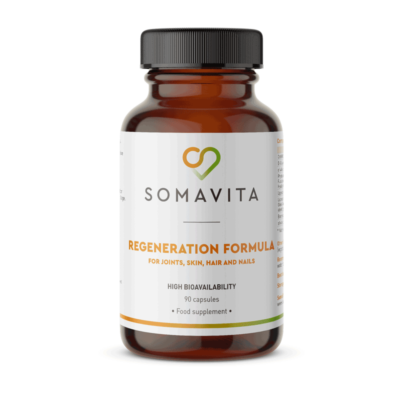 Regeneration Formula (90 caps)
€ 32,90
Description
Additional information
Composition
Dosage
Description
The following nutrients have been added:
MSM (methylsulfonylmethane)
MSM is an organic sulfur compound. Sulfur is an essential nutrient that is important in many processes and functions in the body. It is a component of proteins and enzymes.
Phytodroitin™
Phytodroitin™ is a 100% plant-based alternative to chondroitin. Phytodroitin™ contains a special combination of carefully selected mucopolysaccharide-rich algae extracts from Ulva Lactuca linnaeus (sea lettuce) and Fucus vesiculosus (bladder seaweed), supplemented with polysaccharides containing glucuronic acid and N-acetylglucosamine (= hyaluronic acid). The mucopolysaccharide structure of Phytodroitin™ is practically identical to the structure of chondroitin sulfate, which comes from animal sources and is structurally similar to bovine chondroitin sulfate. Phytodroitin™ is free from animal ingredients and registered with the Vegan Society and Vegetarian Society.
Glucosamine
Glucosamine is an important component of our cartilage and joints. In our diet, glucosamine is almost exclusively found in crustaceans and cartilage. Because these are eaten little nowadays, it is more than logical that many people build up a deficiency, especially at a later age. Our body could manufacture this joint building block itself, but it has been shown that this process is difficult, so there is a good chance that our body does not get enough glucosamine. It is therefore important to supplement the daily diet with glucosamine because this is an important component to keep the cartilage and joints flexible and firm.
Bamboo Silica
Bamboo Silica is very rich in the mineral silicon. Many minerals depend on silicon. For example, magnesium is poorly absorbed if silicon is missing. Silicon is important for connective tissue, cartilage, skin, hair and nails. Silicon works synergistically with MSM and glucosamine. Liposomal Vitamin C Somavita® liposomal vitamin C contributes to the improvement of the immune system. In addition, vitamin C supports normal collagen formation. This is especially important for bones, cartilage, teeth, gums and skin. A normal energy metabolism and mental functions are also promoted by vitamin C. Vitamin C also helps to protect cells, increases iron absorption and supports energy balance. In addition, vitamin C is an antioxidant. Vitamin C is very important for the functioning of our body. Our body cannot produce vitamin C on its own. Therefore, Vitamin C must be supplied through food and dietary supplements.
Due to the Health Claims Regulation and the KOAG/KAG, we are not allowed to mention the powerful effect of MSM, glucosamine, phytodroitin™, bamboo extract and vitamin C here. By searching the internet with for example duckduckgo.com for one of the above nutrients, one can find many scientific health articles that specifically discuss this.
Composition per 3 capsules
| | | |
| --- | --- | --- |
| | Quantity | %NRV* |
| OptiMSM™ | 1050 mg | ** |
| D-Glucosamine Sulphate-NaCl | 750 mg | ** |
| – of which glucosamine | 468 mg | ** |
| Phytodroitin ™ (Ulva Lactuca Linnaeus, Fucaceae Fucus Vesiculosus, Sodium Hyaluronate, Maltodextrin | 300 mg | ** |
| Liposomal Vitamin C | 90 mg | 113% |
| Liposomal proprietary Blend: PalmiticOleic Acid Phospholipids from non-GMO identity protected sunflower | 30 mg | ** |
| Bamboo Extract | 120 mg | ** |
| – of which silicium | 84 mg | ** |
* Nutrient Reference Value ** not established
Free from GMO, gluten, soy, lactose, preservatives, artificial colours, flavours and fragrances.
Suitable for vegetarians and vegans.
Recommended daily intake 3 capsules per day with plenty of water during a meal.
Storage in a closed and dark place at room temperature.